About the author
Following up on the Berlin Group's NextGenPSD2 Access to Account Interoperability Framework open for discussion and enhancement, Asseco has participated, as Premier Sponsor, in the NextGenPSD2 Conference 2017 and public market consultations on implementation guidelines.
With the first positive impressions upon the review of the proposed framework, the opinion is that the Berlin Group's specification is quite promising, given the fact that it is an initial draft. However, it requires a certain volume of activities on further clarification and alignment in order to achieve the desired true interoperability.
As a trustworthy financial technology provider and a supporting pillar to its partners and clients whenever new, demanding regulations are introduced, Asseco is inclined to provide its expertise and know-how this time as well, and hence to support the Berlin Group's initiative for establishing the pan-European Interoperability Access to Account (XS2A) Standard. The standard depicts "a harmonized and interoperable set of Application Programming Interfaces (APIs) as the safest and most efficient way to provide data securely, reduce XS2A complexity, and address the problem of multiple competing standards in Europe."
Apart from the NextGenPSD2 Conference sponsorship, Asseco is set to contribute to this goal through its efforts on improving the quality of the specifications and implementation guidelines thanks to its experience in API design, and making products compliant with this standard available to the market.
Within its broad range of solutions and services, Asseco provides a PSD2 ready digital banking platform, Digital Edge, consisting of Digital Edge HUB APIs and omnichannel touchpoints (Digital Edge Web, Digital Edge Mobile), which meets the Berlin Group's XS2A API definitions as well as general PSD2 requirements. In addition, Asseco will continue offering its own REST API definitions responding to a rich set of scenarios not totally encompassed by the regulation and enable the full power of digital banking.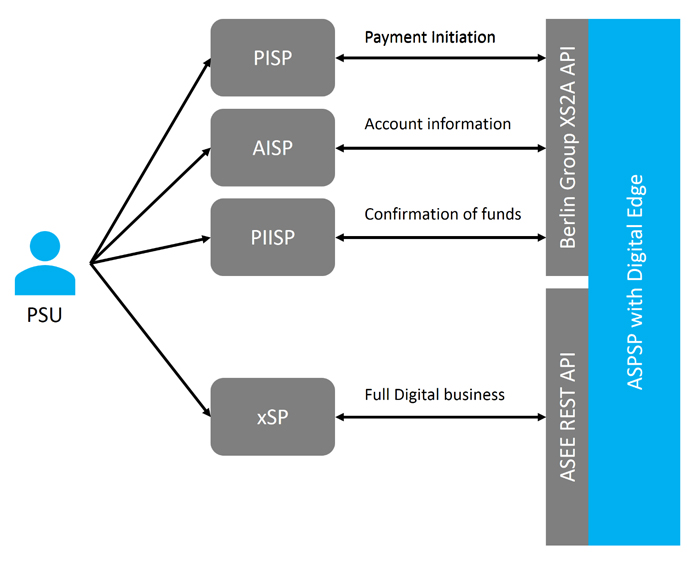 Earlier this year, a number of the PSD2 compliant capabilities of Digital Edge have been presented in the form of free webinars now available on demand. The topics addressed include Strong Customer Authentication and PSD2 API Enabler Package (XS2A), which arouse great interest among bankers and financial services providers. Besides watching the webinars, you are invited to contact us and clarify any queries you may have!