About the author
Recent events have resulted in shifting direct interaction with customers and partners to a different channel of communication.  The logical choice has included channels such as web and mobile applications, e-mail, short messages, etc.  In these circumstances when everything proceeds quickly, the transition from an analog to a digital way of communicating poses a challenge for both participants – service provider and service user.
Not only do the channels suddenly have to support an extended set of functionalities at once, but they also need to provide and present those functionalities in a way and in a form that is suitable and understandable to the end-users.
Customers need to adapt to the existing conditions, and yet they are not accustomed to performing complex operations through digital channels, visual interface and new technologies. The inability to find and perform the operations and services they need on their own, often in a very short time, leads to frustration and, of course, dissatisfaction.
From a business perspective, the pressure on customer support has increased, which of course poses a challenge in terms of the volume of operations, and also prevents execution of some other planned operations in this way because operators or lines are busy.
Recognizing this as an opportunity to communicate with customers in a better and simpler way already today, ASEE has included the concept of Digital Assistant in its range of digital solutions.
What is Digital Assistant?
Digital Assistant is an application that enables your clients and partners to communicate with you online in a text form, leading the conversation in a way that would take place with a real person, bank's agent.
It is able to execute customer requests for which it is qualified independently and without support, in the same way as any other application. An additional advantage is that the Digital Assistant recognizes everything it cannot do and that, in such cases, it immediately redirects the client to someone who can best help them at that moment.
The capability to use speech in addition to visual and graphical display is crucial for clients who are not accustomed to applications, emails and various technologies. It enables them to perform operations in the way they have done so far and to do so in the fastest possible manner with the support of Digital Assitant because they are always guided in the right direction and towards the goal by additional questions.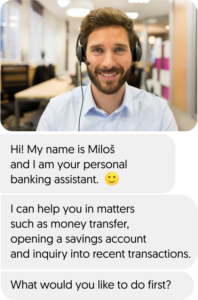 The usability of this solution is unlimited, and here is the list of just a few basic ones:
• Automation of frequently asked questions,
• Providing general information on how certain services can be performed and working hours,
• Inclusion and exclusion of contracted services such as electronic banking,
• Delivery of data for access to services such as user credentials that the user has forgotten,
• Providing information on financial condition,
• Performing transactions,
• Contracting new services such as deposits or loans,
• Obtaining information from clients,
• Updating a customer file, and many more.
If you already have a need for the concept of Digital Assistant today and realize that we can support you in resolving a specific requirement or just want to talk to us about the Digital Assistant and check out its look and feel, contact us to chat and test it live!