About the author
For a while now, user experience is in the center of bank business interest, as FinTechs and PSD2 regulation brought high-tech players into the field. Applications all over us are getting more and more friendly, so customers expect no less from their bank. Not to mention that changing the bank is very easy nowadays, so customer loyalty gained by user-friendly banking might be the key factor in ensuring a profitable future.
To unlock the true potential of user experience, businesses require innovative solutions that can optimize operations, enhance efficiency, and provide a seamless journey for their customers.
What do Clients Expect from a Bank in Terms of User Experience?
In short, fast, and smooth interaction with the bank, and being able to perform everything digitally. Having said that, it should be noted that most banks enable almost all transaction types and product contracting digitally, however, many aspects still remain clumsy and difficult, resulting in frustration of a customer and workload for banks' support team.
Take for example just making a simple payment requires choosing from several payment types from the menu – Domestic, SEPA, SWIFT, and P2P transfers, which oftentimes confuse customers. And payments are the most used functions in digital banking, so simplifying them can significantly improve UX in bank's applications.
To address that, ASEE has developed the Unified Payment Solution, which integrates diverse external transfer methods into a unified ecosystem, making it user-friendly for customers to perform payments.
How Does Unified Payment Solution Work?
Unified Payment Solution is a feature designed to improve the way end users make payments in the app, while simultaneously enhancing the user experience. With this solution, the app automatically selects one of multiple payment methods, based on account and currency inserted by the customer. This feature eliminates the need to manage and navigate through multiple payment methods in the menu, reducing complexity for the end users.
Unified Payment Solution combines all external payment types into one area in the app, called Pay someone. By accessing the feature, the user is presented with the Pay someone screen in which they insert account number or secondary identifier of the contact (mobile phone number or e-mail address), enter the amount, and select the currency. Here is where the Unified payments wizard comes into play.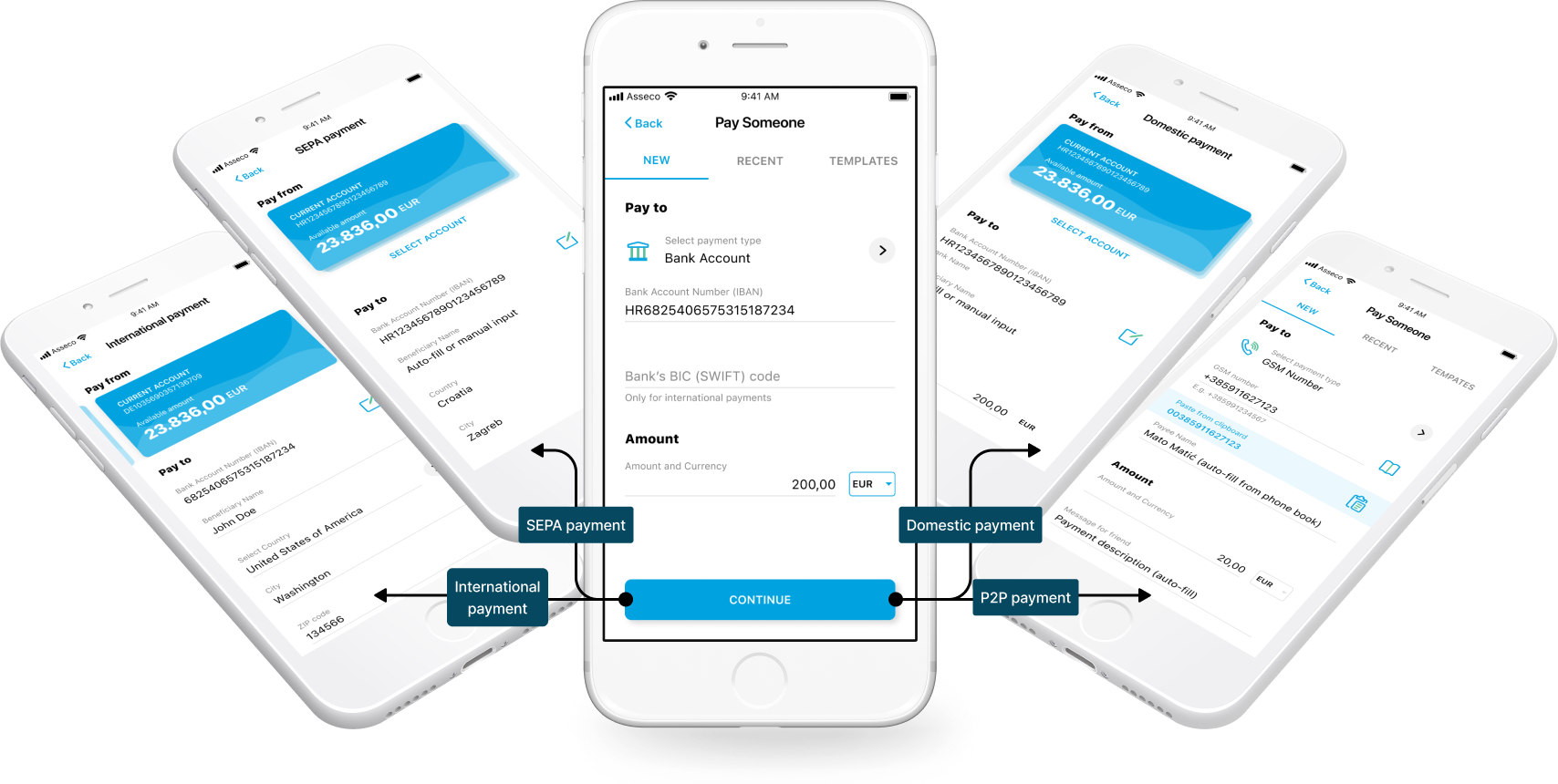 The wizard helps determine the type of external transfer the user is making, and the customer just has to complete the presented fields depending on the payment type.
Supported payment types:
Domestic (Credit) transfer – payment to another private individual or legal entity within the same country in domestic currency,
SEPA transfer – payment to other private individuals or legal entities within the SEPA region in EUR currency,
SWIFT (cross-border) transfer– payment to other private individual or legal entity within the SEPA region in non-EUR currency or outside the SEPA region in any foreign currency,
P2P transfer – payment to another private individual's mobile phone number/e-mail address in a domestic currency based on the credit account linked to a phone number or e-mail in the bank's own or public/national registry.
Each bank can tailor this feature to fit their specific needs. The feature is both intuitive and user-friendly. It reduces the perceived difficulty of making different external transfers for those with limited knowledge of the area.
By integrating multiple payment methods into a unified ecosystem, the Unified payment solution simplifies transfers, enhances efficiency, and provides a seamless journey for customers.
With emphasis on consistency, security, and intuitive design, ASEE offers compelling digital banking solutions for businesses seeking to elevate their user experience and drive customer satisfaction and loyalty.
If you are interested in further exploring this topic contact us today.